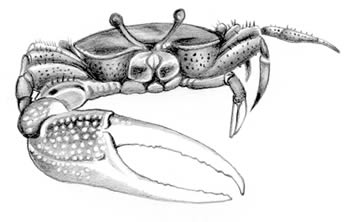 MISSING: Crab

Answers to the name "Fiddle"

Escaped from tank
May have been eaten by a little black dog (AKA "Pilot")
Last night after Kenny got back from a weekend trip to Aspen, we shot over to Walmart and picked up a cute new addition to our fish tank. Fiddle settled right in and didn't even seem to mind the fish. This morning when we checked on the tank we noticed we were missing the newest member of our aquatic family.
Kenny searched the house high and low, but Fiddle is officially gone. Hopefully we don't find him in a few days... after wondering why our house smelled like rotten sea food...
Goodbye Fiddle, we hardly knew you :(